Wheeler Manor's Princess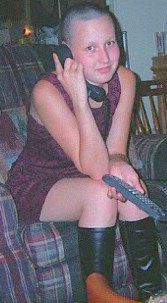 The Princess' Story
I was born on a cold day in March and as usual was late. I am the oldest of three children. I grew up on a hobby farm with loving parents. They gave us kids the best we could have had it. I was a very opinionated child; and I still am; I also have had many medical problems since I was a small child. If any of you guys, can think of any girl who has PMS, and you think they are moody, you have yet to meet me! I get moody like everyone else, but I have a few disorders that contribute to that.
On February 17, 2000, I attempted suicide, because of untreated depression. I was released from the hospital three weeks after admission into the psychiatric unit, for the treatment of my depression. I was put on medication and diagnosed with mild depression. Once again, I was readmitted to a psychiatric unit for depression. I was informed the original diagnosis was incorrect and was given a new diagnosis. My most recent diagnosis is severe depression, borderline personality disorder, dissociative disorder, anxiety disorder, anorexia nervosa and ADHD. I am currently going through testing, intense therapy and many medication changes.
During my first visit to the hospital, I met my best friend. We are now so close, we are like sisters. We have started a band called, "Aquadiac Rane," and our songs are about our struggles through our lives so far. During the second visit to the hospital, I met the most wonderful man in the world. He is everything I want, and everything I would ever need. We have a mutual understanding of what the other needs or wants. We act as though we are an older couple, asking if the other has their medication, (that we take at specified times).
I moved from my parents house three days after my 18th birthday in March. I moved in with my now ex-boyfriend, which I now know was a big mistake. When we lived at his parent's house, everything seemed perfect and his family, I thought, really liked me. We moved out on our own on the first of June into our own apartment, believing it would be like heaven. We had set our expectations of each other too high. Two weeks after we moved into "our apartment," he left a note saying good-bye leaving me with bills I couldn't afford. I of course had to crawl back to my parents, and apologize for the inconsiderate person I had been. I am currently on disability for my disorders and mental health, so I am able to keep up my bills.
I am in an eternal state of bliss right now, and my parents are completely supportive. I understand that I am a 18 year old dating a 30 year old guy. And in my mind and theirs, age doesn't even matter. We help each other through our problems, we see each other at our low times, and we see through them and understand that we both need our own time to think. Right now, I am never at my apartment, I am always at his place, and I am at mine maybe once a week, and he is there with me. We are comfortable at the stage of our relationship, and neither of us push issues, unless it is mutual.
I currently have rather short hair, but have had it shaved. I am 5'4" tall and I weigh 110 pounds. My hair color is normally black, but is currently blonde, and I have brownish green eyes. My body shape is slender and toned. I have done modeling for prom and wedding shows. I am currently talking with a few agents who want me to do their photo shoots. My boyfriend and I are both tattoo artists, and I am also a piercer.